Women in STEM: Dr. Monissa C. Paderes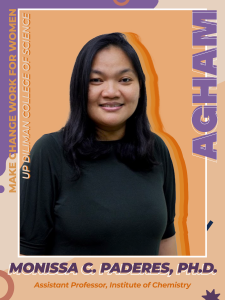 The country has come a long way since the first recorded case of COVID-19 in the early months of 2020. Looking back to the first surge, many local departments—alongside health sectors—have adopted ways to mitigate and manage the pandemic. Big or small, these efforts greatly contributed to the overall improvement of our national COVID situation.
As a chemist, Dr. Monissa C. Paderes volunteered, together with her colleagues from the Institute of Chemistry (IChem), to help in their own ways through producing liters and liters of alcohol sanitizers that were in demand at that time. The Institute also formulated guidelines on the preparation of these alcohol sanitizers, following the protocols of the Food and Drug Administration. Through this, Dr. Paderes was able to realize anew her commitment to serving the country through her profession.
Dr. Paderes is an assistant professor at IChem and the principal investigator of the Organic Synthesis and Supramolecular Chemistry Laboratory (OSSCL), the laboratory she established just six months into IChem. OSSCL designs and synthesizes organic molecules and polymeric materials for various biological, and materials science applications. The laboratory's research goals are in line with Dr. Paderes' research interests which include synthetic organic chemistry, supramolecular chemistry and polymer chemistry.
Dr. Paderes obtained her master's degree in chemistry at the University of South Carolina, Columbia and her doctorate degree in chemistry at University at Buffalo, The State University of New York. She then proceeded to do her postdoctoral fellowship at the National University of Singapore and then at KU Leuven and Procter & Gamble in Belgium.
In 2017, she went back to the Philippines and became a faculty member of the Institute of Chemistry. Dr. Paderes saw big improvements in the capabilities not just of IChem but of UP Diliman. "[Our country] still has a long way to go but compared to 20 years ago, we have improved a lot especially in the facilities and funding aspects, although I believe that we can still do better," she shares. She also cites the UP Balik PhD and DOST Balik Scientists programs as commendable efforts to invite foreign-trained fellows back to the Philippines for good.
After four years as a faculty researcher and head of her laboratory, Dr. Paderes has found her home in IChem, specifically in her beloved OSSCL. The laboratory has secured numerous fundings over the years and has already hosted a number of undergraduate and graduate students as well. After her immediate local response to COVID-19 in 2020, Dr. Paderes and her lab are currently working on the design and synthesis of potential COVID-19 inhibitors. Their study specifically aims to identify SARS-CoV-2/ACE2 inhibitors via structural modifications of natural products commonly found in terrestrial plants. Another current endeavor is part of a drug discovery program and aims to chemically modify deguelin and rotenone to enhance anticancer activity and lower their toxicity. And in a collaborative project with UP Diliman College of Science Dean, Dr. Giovanni A. Tapang, they have also been investigating the synthesis and photodimerization of anthracene-containing polymeric materials and exploring their applications as functional materials.
"I believe the pandemic speaks of how we are perceived as researchers and scientists," says Dr. Paderes. With the current limitations and challenges of doing research, she hopes that in the upcoming 2022 national elections, our country will elect more leaders who will support scientific and medical research and hopefully who will handle health crises rationally. 
Dr. Paderes plans on pursuing her research endeavors here in the country and wants to continue her passion as a mentor and consultant. She has enjoyed her life as a teacher and hopes to be an inspiration to budding scientists. "Scholarships are widely available nowadays, so if they are truly passionate about science and in 'discovering the unknown,' they should take every opportunity they can find and pursue their scientific goals," Dr. Paderes advises younger generations. She also hopes that they will use social media platforms more productively by taking advantage of free online workshops and webinars to expand their scientific vocabulary.
Dr. Paderes is a recipient of the 2021 UP Diliman Centennial Faculty Grant and the Dr. Barker H. Brown Professorial Chair. Despite the limitations set by the pandemic, she continues to share and apply her expertise, and guide her research assistants, masteral students and undergraduate students toward discovering the potential of OSSCL.
Visit the Organic Synthesis and Supramolecular Chemistry Laboratory (OSSCL) website here: https://updosscl.weebly.com/ and view Dr. Paderes' list of publications here: https://chem.science.upd.edu.ph/index.php/faculty/professors?layout=edit&id=180
#BreakTheBias
#WomeninSTEM