Women in STEM: Dr. Maria Corazon A. De Ungria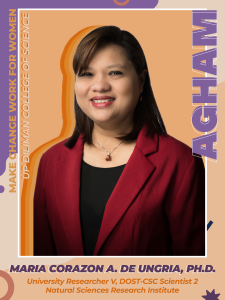 Many Filipino scientists, with their different fields and expertise, have been presented with many opportunities throughout their careers. Many have proven their skills and knowledge in countries that offer greater and more advanced technologies and capabilities. Although pursuing scientific careers abroad may be fulfilling for some, many are still heeding the call to serve their own countries and become instruments, themselves, for the country's scientific advancement.
Microbiologist and forensic geneticist Maria Corazon "Cora" A. De Ungria, Ph.D. exemplified this patriotic gesture when she went home to the Philippines in 1998, armed with a doctorate degree in microbiology from the University of New South Wales and more than 10 years of training abroad.
Since her return, Dr. Cora has been the head of the DNA Analysis Laboratory of the Natural Sciences Research Institute in UP Diliman. Concurrently, she is the director of the Program on Biodiversity, Ethnicity, and Forensics of the Philippine Genome Center. She is the highest-ranking REPS in UPD who currently holds the sole University Researcher V position. In 2013, Dr. Cora was conferred a Scientist II rank by the Civil Service Commission (CSC) and the Department of Science and Technology in the Scientific Career System that both agencies maintain for full-time researchers serving in government institutions.  
Dr. Cora reiterates the importance of opportunities and the right kind of support such as competitive salary and benefits in molding a capable scientist like her. "[These] allowed me to focus my mind and passion toward research and service. Working in an enabling environment allows career scientists to focus on generating knowledge through research and serving the community in the best way we can," she says.
Her research endeavors lean on human genetic diversity and maximizing the use of DNA as a tool for human identification in criminal investigations. Generally, her work revolves around discovering how science can help in addressing societal concerns in the Philippines through forensic DNA technology. With this line of research, her laboratory has received recognitions such as the 2019 Outstanding Institution Award from National Research Council of the Philippines (NRCP) for its pioneering work in promoting the use of forensic DNA technology and in exploring the genetic diversity of Philippine communities, including those of indigenous cultural communities/indigenous peoples (ICCs/IPs). 
A more notable result of Dr. Cora's research was the implementation of the Rule on DNA Evidence that was promulgated by the Supreme Court in 2007 and is now being used by all trial courts in the whole country. Having spent almost 30 years in research work, she boasts a long list of achievements and recognition such as the Outstanding Woman Researcher in the Life Sciences (organized by the Third World Organization of Women Scientists and Elsevier in Kuala Lumpur, Malaysia) in 2009; a National Fellow of the L'Oreal – UNESCO Women in Science Program in 2011; ​​the Most Outstanding Alumni (awarded by the Australian Embassy in the Philippines) in 2017; and one of two Filipinas featured in "Profiles of Women Scientists in Asia" (published by the Association of Academies and Societies of Sciences) in 2019. In 2017, she also received the Dangal ng Bayan award from the CSC for her exemplary service to the country while observing the "Code of Conduct and Ethical Standards for Public Officials and Employees" or RA 6713. 
She also advocates for the effective communication of research findings to stakeholders in order to create more concrete results. "Being in UP enabled me to present my research findings in local and international conferences that have opened opportunities for diverse collaborations," Dr. Cora adds. Sharing her research also gave her chances to contribute to discussions on national policies and to the drafting of national and institutional guidelines for research involving human samples as well as in legislating laws that may help promote genomics and forensics in the Philippines.
As a woman in science who has managed to bring herself to the top of her field, Dr. Cora hopes to inspire more young girls to pursue a career in science through her own life story. She reminds fellow women scientists to partner passion with purpose, to be determined and not to give up easily because every scientific journey has its own challenges. Many times, she reiterates the value of taking risks—'suntok sa buwan'—which could either result in 'pagbagsak sa lupa o pagyakap ng langit.'
She hopes that opportunities specially designed for women scientists to participate in scientific research should be made available. Particularly, she is hoping to see changes for women who have chosen to build a family and career at the same time. "Many female scientists find it challenging to return to active research after starting their families. Professional societies should strengthen their networks in order to facilitate different platforms for research collaborations. In recognising and crediting the contributions of female scientists during different periods of their careers, we will foster an enabling culture for women to continue pursuing rewarding careers in science."
Dr. Cora believes that it is essential for the development of the Philippines as a scientifically and technologically savvy country. Future leaders should form data-driven policies and laws, and support science by providing financial security to government scientists and funding for research. More importantly, Dr. Cora believes that leadership is best done by example. According to her, "A leader should be able to inspire others to be their own catalysts for change."
#womeninSTEM
#BreakTheBias
To know more about Dr. Cora A. De Ungria, you may visit and read her story in "Profiles of Women Scientists in Asia" through this link:
https://www.interacademies.org/sites/default/files/publication/profiles_of_women_scientists_in_asia.pdf