Women in STEM: Dr. Ma. Anita Bautista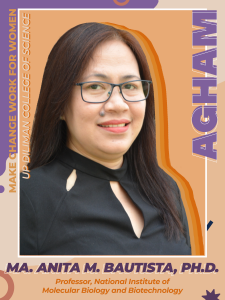 Often called "Marianne" by her colleagues and "MAM B" by her students, Ma. Anita Mascarenas Bautista, Ph.D. is a professor at the National Institute of Molecular Biology and Biotechnology (NIMBB) in UP Diliman where she also heads the Functional Genomics Laboratory. She served as the Program Director of the DNA Sequencing Core Facility and the Agriculture, Livestock, Fisheries, Forestry in the Philippine Genome Center (PGC), a genomics research facility in UP.
Dr. Marianne's science-directed education and career started during her bachelor's degree in Agriculture in UP Los Baños, where she realized that the program does not solely revolve on farming but was a mixture of going out to the fields, doing laboratory experiments and doing research that are beneficial to farmers. These were all the things that piqued her interest and encouraged her to major in Entomology—a field that sparked her love for insects.
From 2003 to 2009, Dr. Marianne pursued her master's and doctorate degrees in Applied Entomology in Nagoya University in Japan under the MONBUKAGAKUSHO (Japanese Government) scholarship. Her graduate dissertation was about the molecular biology of insecticide resistance to a particular crucifer pest. She did her postdoc in Ohio State University, USA where she explored omics technology, an area of study that involves the universal detection of genes, mRNA, proteins and metabolites in biological samples. 
Her advanced studies in molecular biology and omics led to her recruitment as a faculty member of NIMBB in 2013. By then, PGC had just been inaugurated and Dr. Marianne was also assigned as the laboratory manager of its DNA sequencing facility which she also directed years later. Her current research interests include the molecular biology and biochemistry of insecticide resistance, genome sequencing and anything related to omics technology.
As she looks back to her journey toward being a successful woman scientist, Dr. Marianne recounts many times that sacrifices were crucial and challenges were inevitable. She had to endure being away from her family including her daughter and son to advance her scientific studies abroad and eventually open greater opportunities for herself locally. "I think it happens to a lot of women, that after they marry and start to build a family, careers will really be affected," she says.
Even earlier than her education abroad, when she was starting a family and simultaneously a career in research, she often found herself feeling heavy when leaving her kids at home between 8 a.m. to 5 p.m. every single day. There were times when she received paycuts because she chose to take care of her children at home. This is why Dr. Marianne believes that this is the time to transition workplaces into being output-based rather than equating productivity to time in the office. "These kinds of struggles do not only happen to women in science, but also to women in other fields who are being restricted by traditional working conditions. Oftentimes, the number of hours spent in the office is not equivalent to the level of productivity."
With this concern at hand, Dr. Marianne hopes that future leaders of the country will create laws that allow more flexibility for women, especially those who would like to start a family. "The three to four months of maternity leave is sometimes not enough. I hope we can create a more nurturing environment for these women and their families such as adopting work from home arrangements and flexible schedules," she says. 
Dr. Marianne believes that women should not be limited to roles of a mother and a wife, but rather let them aspire for career development. "Let's not let our dreams remain as dreams but rather work on realizing them," she says. We need to learn as a mom scientist, both the hard and soft skills because these are our tools that will benefit the country. We can try to emulate our renowned Filipino scientists who have these hard and soft skills." she adds.
As a woman scientist, she says one her roles is to encourage young women and the youth in general to get involved in science. And to do this, she envisions participating in more extension programs that will create opportunities for them and provide awareness of the different scientific fields that they can choose. "Many high schoolers may not want to be involved in unfamiliar programs such as molecular biology or genomics because they know nothing about it. It is our job as scientists to bridge the gap of information."
#BreaktheBias
#womeninSTEM
Know more about Dr. Ma. Anita Bautista:
https://pgc.up.edu.ph/ma-anita-bautista-phd/;