UPD-CS graduates help cement UP's lead in Asia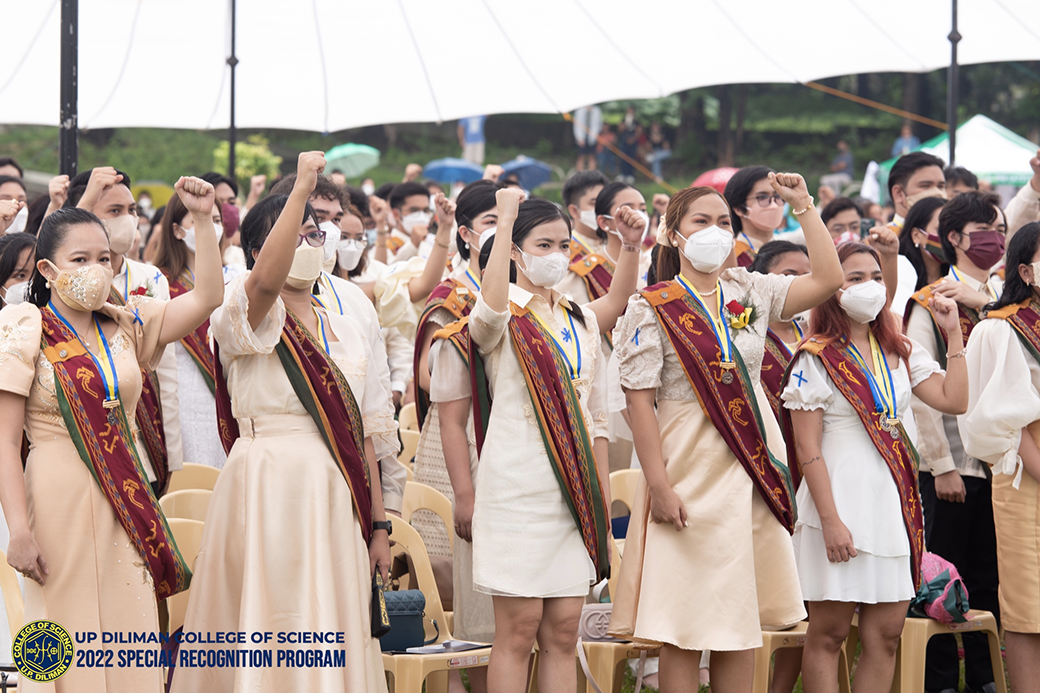 One out of every ten graduates of the University of the Philippines – Diliman (UPD) is from the College of Science (UPD-CS), underscoring the latter's essential contributions to the University's standing as the country's premier institution of higher learning.
In 2022 alone, UPD-CS accounted for 331 or 9.52% of UPD's 3,475 graduates. This helped UP as a whole rank 87th in Asia and 18th in Southeast Asia in the recently-released 2023 Quacquerelli Symonds (QS) Asia University Rankings, ahead of other Philippine universities. To help maintain and improve UP's premiere status, UPD-CS is mandated to produce internationally-recognized graduates, institutional partnerships, and research output. 
"The College aims to collaborate with different NGOs, private entities, SUCs, HEI, and local and international institutions in the scientific community to promote and mobilize scientific experts," explained UPD-CS's Associate Dean for Research, Innovation, Development, and Enterprise Ricky Nellas. "This will serve as a training ground for UP experts, students, and staff to fill network engagement between researchers."
UPD-CS also has 18 active international research collaborations, five of which started just this year, plus a further 18 ongoing local partnerships. These were also taken into consideration in UP's QS score and subsequent ranking.
Moreover, UPD-CS aims to produce industry and government leaders as it transforms itself into a leading research institution in Asia. Apart from strengthening the College's research projects and partnerships, having a multi-tier support system for researchers would help achieve these goals, according to AD Nellas.
"This system should include not only financial coverage, but also holistic activities for the physical, mental, and psychological well-being of researchers," he said. "Moreover, CS and the University should partner with lawmakers to improve taxation for researchers and lobby for tax exemptions for the research-derived honoraria and financial incentives. Alternatively, an increase in research honoraria can be implemented in lieu of tax breaks."
AD Nellas added that the most crucial step UP should take is to improve the procurement process needed to establish, operate, and maintain scientific infrastructure and facilities. Restructuring the procurement pipeline for research activities, simplifying requirements, and providing exceptions for specialized needs would help reorganize the procurement process.
"These would greatly accelerate research and alleviate the administrative workloads of both project staff and the faculty. CS and the University could also allow and lobby for the deregulation of research-related contracts to allow our researchers greater flexibility, make procurement efficient, and improve the working conditions of staff and personnel," he concluded. 
For further information, please contact UPD-CS Associate Dean for Research, Innovation, Development, and Enterprise Ricky Nellas at rbnellas@up.edu.ph.
For interviews and other inquiries, please contact media@science.upd.edu.ph.