Uncertain future looms for Philippine, Southeast Asian mangroves
A comprehensive survey of over 300 mangrove studies across the Philippines and the rest of Southeast Asia (SEA) has found large gaps in our understanding of the current and future state of these already dwindling natural resources, according to scientists from the University of the Philippines – Diliman College of Science (UPD-CS).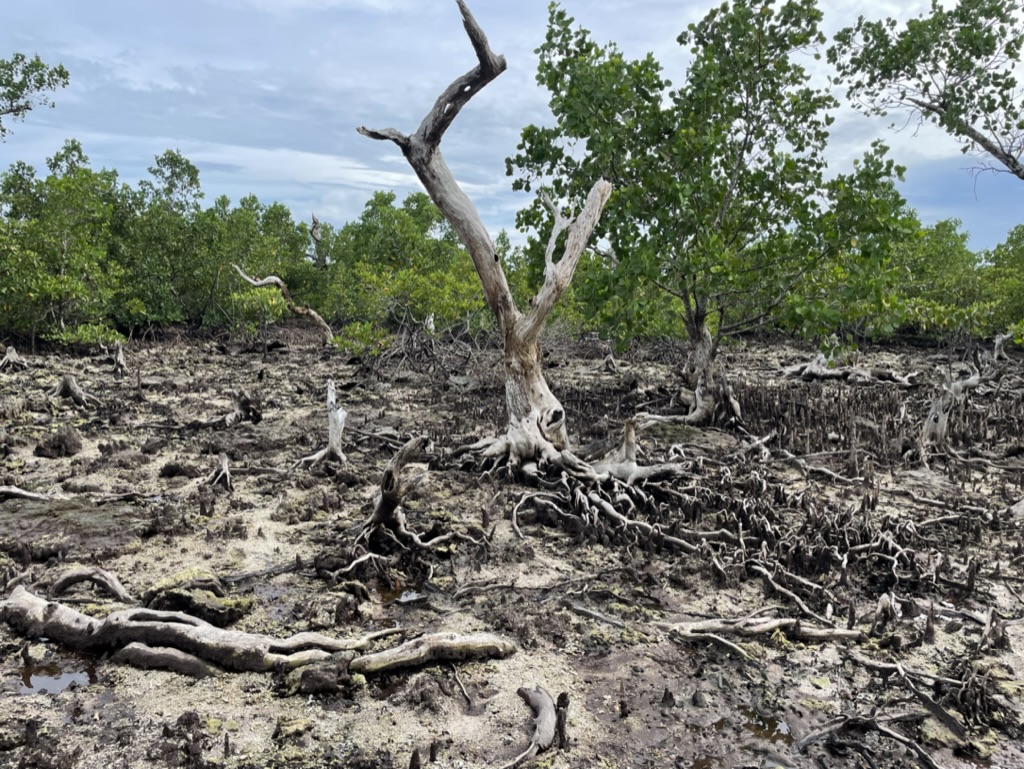 The Philippines is the second worst country in the Association of Southeast Asian Nations (ASEAN) in terms of mangrove losses: it suffered a 10.5% decline between 1990 and 2010, according to independent studies included in the survey. It is surpassed only by Myanmar, which suffered a 27.6% loss between 2000 and 2014.
Less than a decade left
The findings are a stark wake-up call, given the international declaration of the years 2021 to 2030 as the UN Decade on Ecosystem Restoration, aimed at preventing, stopping, and reversing the degradation of ecosystems worldwide. With the countdown well underway, the comprehensive survey undertaken by UP Ph.D. Biology student Maria Elisa Gerona-Daga and Institute of Biology Associate Professor Dr. Severino Salmo III of existing mangrove restoration research helps identify ways to achieve the SEA region's restoration targets and safeguard their biodiversity.
The pioneering study is the first of its kind in SEA. Entitled "A systematic review of mangrove restoration studies in Southeast Asia: Challenges and opportunities for the United Nation's Decade on Ecosystem Restoration," it provides a systematic and quantitative synthesis of 335 mangrove restoration studies in the region that were published before February 2022. The investigation has also identified regional successes and failures in mangrove restorations.
Five priority topics were suggested by Gerona-Daga and Salmo for improving the science and practice of mangrove restoration towards realizing the UN's targets for 2030: restoration areas and methods; mangrove restoration in climate change adaptation and mitigation programs; monitoring recoveries of biodiversity and ecosystem services; policies, governance, and community engagement; and strengthening of the ASEAN network.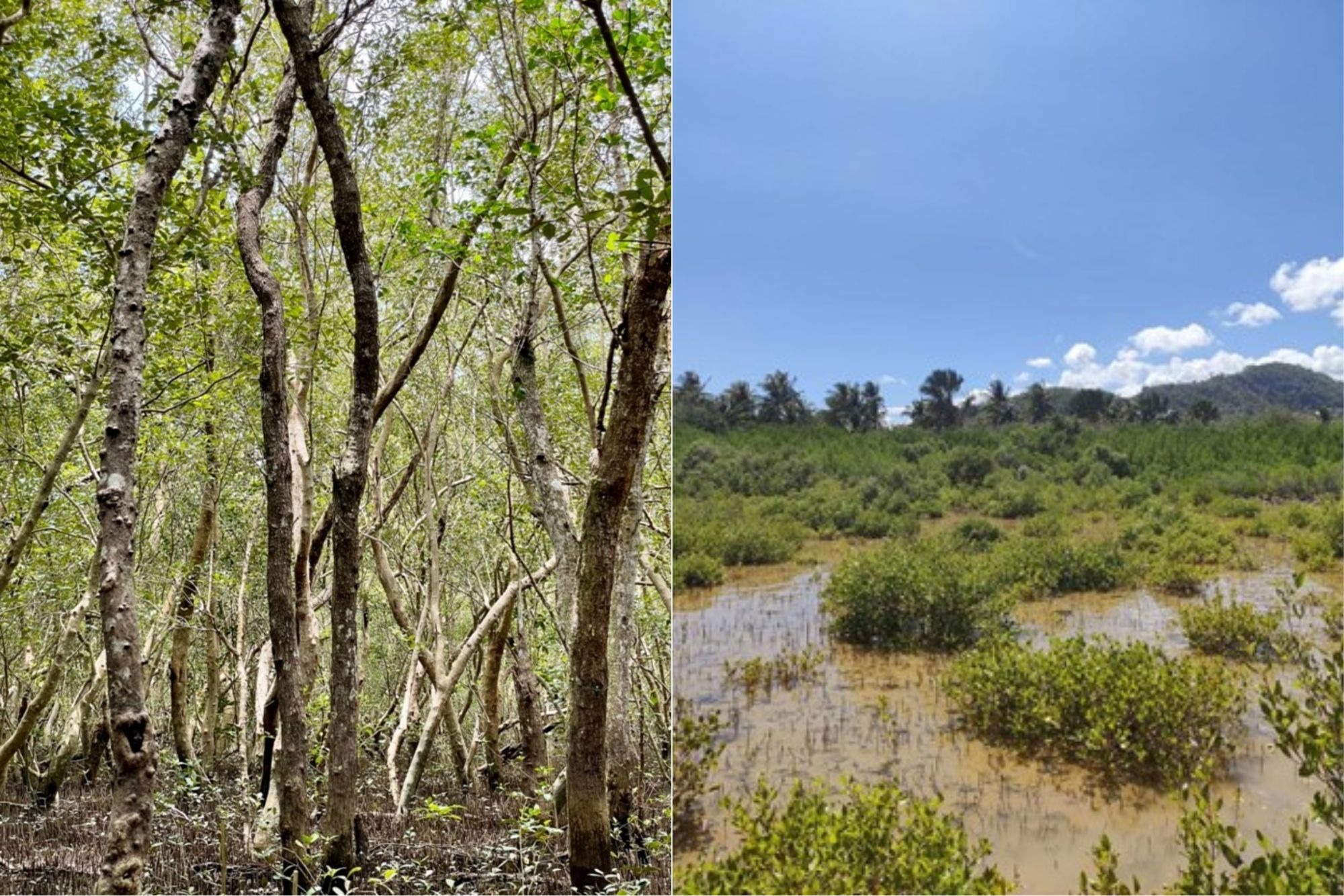 Restoration and climate change adaptation
The researchers propose to add more mangrove faunal and floral species as bases for selecting and prioritizing sites for restoration, thereby furthering the UN's biodiversity goals and potentially generating useful data on genetic diversity. The approximately 3,000-square-kilometer  restorable area across SEA, as estimated by University of Cambridge researchers in 2018, should also be earmarked and ground-truthed for each country to determine suitable restoration sites. Assessing the economic and policy impacts of restoration in places that are also being considered for human settlement and reclamation will help governments create realistic and sustainable plans, Gerona-Daga and Salmo added.
As a region vulnerable to natural disasters such as typhoons and tsunamis, restoration programs should be designed to adapt to and mitigate climate change impacts. Technological innovations for science-based green-gray coastal engineering are critical for facing changing climatic conditions.
The researchers underscored the increasing need for mangroves' adaptability to climate change. This, in turn, creates the need for new technologies and innovations that can fast-track the sustainable recolonization of mangroves.
Monitoring biodiversity recoveries, ecosystem services
Gerona-Daga and Salmo also point out the problems with data monitoring in mangrove restoration projects, particularly the lack thereof and the tendency of short-term monitoring to misinterpret findings. They also mentioned that while traditional monitoring methods such as transecting and plotting are crucial in assessing biodiversity, institutions should use more efficient and cost-effective monitoring methods such as environmental DNA (eDNA) and remote sensing. 
Although vegetation metrics may be easier to measure and reflect mangrove traits that recover faster, the researchers note that correlating these metrics with ecosystem services will be more strategic in quantifying restoration effectiveness. The researchers also advise conducting a comparative assessment of biodiversity and ecosystem services among intact, disturbed, and restored mangroves to shed light on restoration trajectory patterns.
Strengthening government interventions
The study suggests potential government policies to support continued research and community involvement in mangrove monitoring. Southeast Asian collaborations are essential in sustaining regional mangrove protection: establishing and strengthening partnerships with neighboring countries will enable the region to form unified goals and facilitate more sustainable restoration measures. Sharing knowledge and other resources in the SEA region can also benefit countries with limited mangrove restoration research.
To this end, Gerona-Daga and Salmo propose an ASEAN journal focused on mangrove restoration, conservation, and management composed of a multinational scientific editorial board to share mangrove research to a wider platform efficiently and ultimately contribute to effective restoration practices.
"Our study aims to provide suggestions in line with international commitments of ASEAN-member countries," says Salmo. "The pressing need is to establish and consistently monitor the state of the mangroves for each country, protect mangroves through biodiversity conservation programs, and more importantly, to stop or limit coastal reclamation projects," he further explains.
Furthering collaboration among mangrove researchers
Gerona-Daga and Salmo expect to conduct another study as a follow-up to their September 2022 publication. They aim to spark deeper collaboration among mangrove researchers all over the region towards sharing recommendations and regular tracking of the progress of mangrove conservation and restoration programs. 
The UN Decade on Ecosystem Restoration is a perfect opportunity to underscore the urgency of mangrove restoration. Mangroves provide a long list of ecological and socio-economic benefits, so much so that the International Union for Conservation of Nature (IUCN) refers to them as nature's superheroes because they not only provide livelihood and habitats to animals but also mitigate climate change and reduce the impacts of storms and other natural disasters.