Researchers urge oil spill cleanup amid calm weather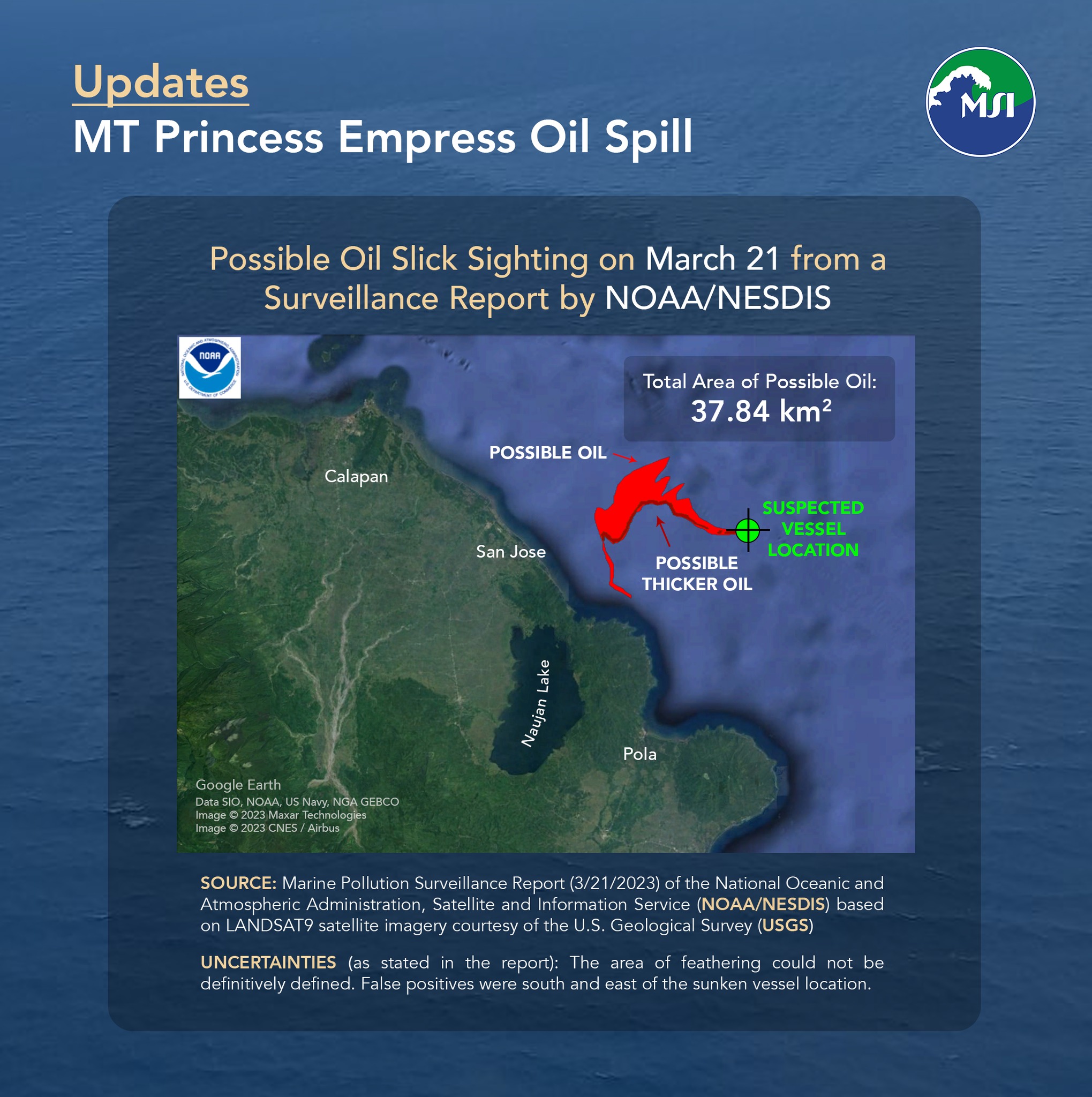 Scientists from the University of the Philippines – Diliman Marine Science Institute (UPD-CS MSI) have noted a "window of opportunity" to step up efforts to clean up the oil spill from the MT Princess Empress tanker that sank off Naujan, Occidental Mindoro, last February 28.
"Weaker winds and calmer seas allow for larger oil slicks to form because of less disturbance from waves," the researchers noted in their latest update. Satellite data from the US National Oceanographic and Atmospheric Administration (NOAA) as of March 21 showed that the floating oil had accumulated into a 37.84-square-kilometer slick—"larger than Las Piñas," the scientists noted. 
The accumulated oil, along with the improved weather, may be a boon to cleanup efforts: "Calmer seas and larger slicks should be taken as an opportunity to collect the oil in slicks near the sunken tanker using booms and skimmers and ramp up cleanup efforts to prevent the oil from spreading further," the UPD-CS MSI said.
The researchers also warned that, with the seasonal weakening of the Amihan Northeast Monsoon, the subsequent strengthening of  easterly winds may push the oil further westward through the Verde Island Passage (VIP), one of the most biodiverse regions in the world and home to thousands of unique species. With some of the highest concentrations of coastal fishes, corals, crustaceans, molluscs, seagrasses, and mangroves worldwide, the Passage is the main source of food and livelihood for millions of Filipinos.
For the full update and for notifications of new developments, please Like and subscribe to https://www.facebook.com/upmarinescienceinstitute 
The UPD-CS MSI is also asking the public for help in monitoring the oil spill. The public is encouraged to contribute geotagged images of sightings of the MT Princess Empress oil spill through this form: https://bit.ly/MTPE_GPS. The use of a GPS-enabled phone and a GPS camera app such as "GPS Map Camera" (available on Google Play and the Apple Store) are recommended so that geotag location data can be preserved. 
For interview requests and other media concerns, please contact media@science.upd.edu.ph