Remembering Maam Sanna: mentor, colleague, academic mother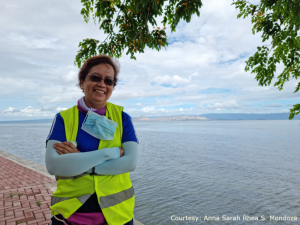 Maria Ines Rosana D. Balangue-Tarriela, Ph.D., or Ma'am Sanna and the unofficial "Nanay ng NIGS," sadly joined our beloved creator last August 8, 2022. Her commanding yet comforting presence, her uplifting and warm attitude, and her motherly aura were remembered by her former students, colleagues, mentees, and more people who she has helped or inspired.


Maam Sanna as a Mentor
"Bakit ako susuko, hindi pa nga ako sinusukuan ni Ma'am Sanna"
Dana Sarmiento, University Research Associate, heard this from one of the students in their laboratory and it really resonated with her. For her, Maam Sanna consistently inspires people to keep going and to push harder in academics and in life–that is how passionate she is to geology and her students. Outside the classroom, Dana mentioned they would have late-night meetings with Maam Sanna to discuss their research, field work requirements, and climb mountains. "That is how much she cares. Dr. Tarriela made a huge impact on the field of geology and on the lives of the people around her," she added.
Maam Sanna as a motherly figure
"Iba magmahal ang isang Ma'am Sanna"
Anna Sarah Rhea S. Mendoza, NIGS instructor, lovingly mentioned that Ma'am Sanna was a "mother she never knew she needed." As her former student, Anna remembered how Maam Sanna would go far and beyond to always make her discussion interesting and engaging. She also received important advice from Maam Sanna that made her studies in geology bearable. As a colleague, Anna mentioned that her love and dedication to her profession have inspired countless colleagues and students like her to pursue what we love to do. "She would always say to us words of encouragement like 'huwag kayo bibitaw' and 'walang susuko', just like how a mother would say to her children. One of her strengths and admirable qualities is her ability to give hope when there seems to be none." she added.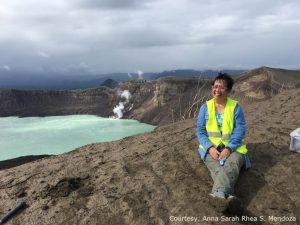 Maam Sanna and NIGS 
Aside from being an associate professor, Maam Sanna was pursuing research angled in geothermics, hydrothermal geochemistry and economic geology. Her early studies were crucial in developing models and regulations that helped in promoting sustainability of natural resources.
Beyond her institutional duties as a professor and scientist, Maam Sanna was well remembered in NIGS as someone who was willing to extend help in times of crisis. During the COVID-19 lockdown, she facilitated the solicitation of and managed the funds generated from donations, and distributed these to the needy NIGS constituents, whether for their internet requirements for online classes, or even for the most basic necessities like food and shelter. 
It is indeed unfortunate to lose a significant figure who has contributed in shaping NIGS as a national institute. She will surely be remembered by her students, co-authors, co-teachers and all the people whose lives she touched in many ways. She will be remembered for embodying a loving mother and for being a thoughtful, helpful person. She will be remembered for a successful journey she had. Most of all, she will be remembered through the good values she has shared as the "Nanay ng NIGS."