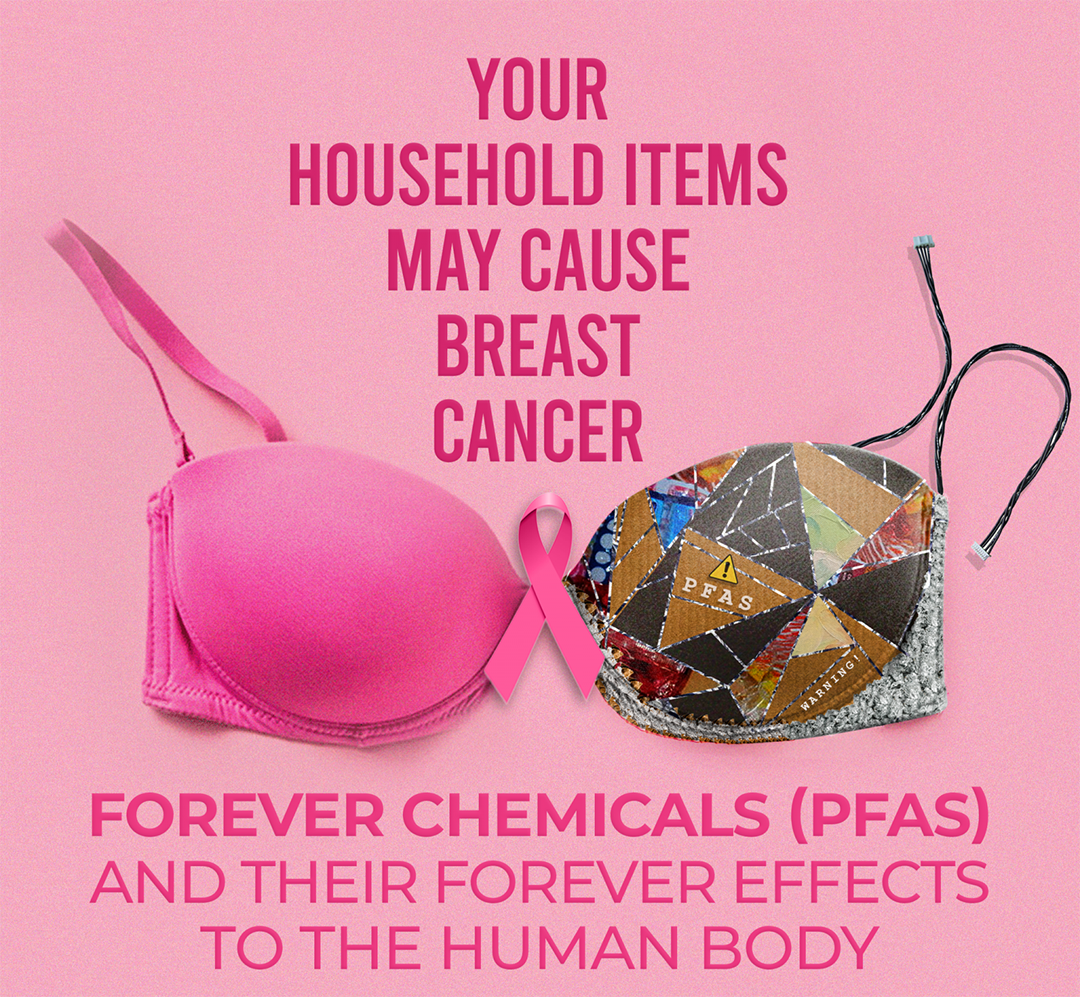 Filipino study shows high levels of "forever chemicals" in
women with breast cancer in the Greater Manila Area
A recent study headed by UP Diliman Professor Dr. Michael Velarde was conducted to provide data on the exposure of Filipino women to 41 endocrine-disrupting chemicals (EDCs). EDCs, when absorbed by the human body, can interfere with the normal function of the endocrine system and can cause a wide variety of health issues.
After analyzing EDC concentration through urine and blood samples of 150 participants who were half breast cancer patients and half with no breast cancer, Velarde et al.'s study showed high PFAS exposure in Filipina breast cancer patients. It also highlighted that long-chain PFAS (PFAS molecules with longer carbon backbone) levels were significantly higher in women from the CALABARZON region, a heavily industrialized region compared to the National Capital Region (NCR). Additionally, the study found out that factory workers had significantly higher levels of PFOSA (a type of PFAS) compared to non-factory workers; household workers had significantly elevated PFDoA blood serum concentrations compared to non-household workers. PFOSA and PFDoA are types of PFAS.
Forever Chemicals, or Per- and Polyfluoroalkyl substances (PFAS), are a group of man-made chemicals that are widely used in a variety of industries. They can be found in food packaging, non-stick cookware, stain- and water-repellent fabrics, paints, cosmetics, and a lot more items that people may see, use, and consume everyday. The study was able to determine that chemicals present in these household items are risk factors for breast cancer occurrence.
PFAS are very persistent in the human body and our environment; they can take up to 1000 years to break down. This means that these chemicals are a threat to public and environmental health. Common ways of human exposure to PFAS are through contaminated water, food, and even air, and through skin exposure to household consumer products that contain PFAS.
Studies like this have continuously reiterated the negative impacts of certain chemical exposure on women's health, especially those of pregnant women and mothers. Breast cancer is now the most common form of cancer globally, with the Philippines having the highest prevalence of breast cancer in Asia, and approximately 70% of breast cancer cases occur in women with undetermined risk factors, such as non-stick cookware, furniture, food packaging and wrappers, etc.
Many organizations all over the world have expressed their position on this major health issue, calling for an urgent need to protect people and the environment from these harmful synthetic chemicals. The International Federation of Gynecology and Obstetrics (FIGO) recommends PFAS-free clothing, food packaging, and furniture. It also urges governments to prioritize legislation to phase out all non-essential uses and manufacturing of PFAS, starting with uses that are likely to result in greater exposures to pregnant women and children.
Supporting FIGO and its call to a global phase-out of non-essential PFAS, Velarde et al. also hope the data they have gathered will encourage the government to also check up on our status as a country and take action on this current environmental and public health problem.
The publication, Elevated levels of perfluoroalkyl substances in breast cancer patients within the Greater Manila Area, is a collaborative project between UP Diliman Institute of Biology, UP Manila Philippine General Hospital and the UCSF in California USA through the CHED-Philippine-California Advanced Research Institutes.