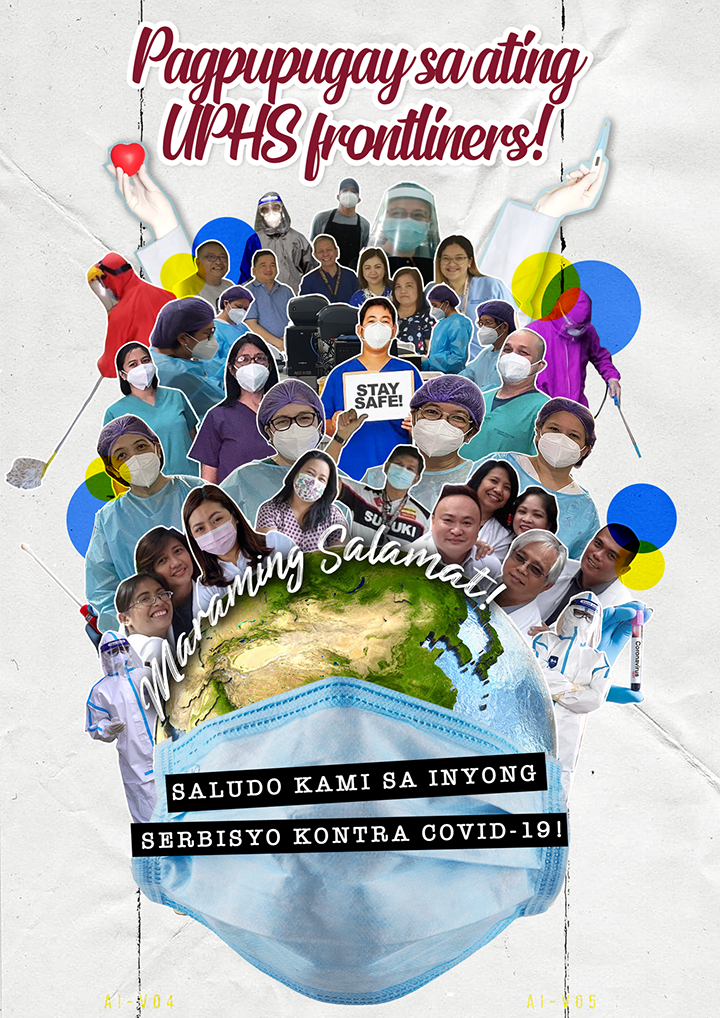 During these trying times, when we are continuously battling with an invisible enemy, people on the front lines have become our real-life superheroes. Doctors, nurses, janitors, delivery riders, and every essential worker have tirelessly rendered their service for over a year now, sacrificing not only their lives but also of their close loved ones.
From the very beginning of the COVID-19 pandemic, the staff of the University of the Philippines Health Service (UPHS) has shown their dedication and passion to contribute to the healing of our nation. Many UPHS employees have been infected by the virus during their line of duty, but this did not stop them from continuing to serve the people after their recovery.
To accommodate suspected and probable COVID-19 cases, UPHS extended its services to Kanlungang Palma (KP) which opened from April 20 to July 10, 2020. By August of the same year, Silungang Molave (SiM) opened and is currently serving as a swabbing station and community isolation facility for mild and asymptomatic COVID-19 cases. UPHS also adapted telemedicine into nearly all of their clinic services to continue serving from the comfort of their patients' homes.
The pandemic has been a difficult adjustment for everyone, but it is an even tougher adjustment for our frontliners. Among the things they had to get used to is being physically distant from their families. "I started staying in a separate room, using a separate bathroom and having a separate set of utensils. I have not hugged any member of my family since I started working in the isolation unit last May 2020," says Dr. Ani Batangan, a Silungang Molave physician.
Despite this discouraging reality, these frontliners continue their jobs because they find motivation in being able to pursue their passion, give back to the Filipino community, and greatly contribute to the healing of the country.
"What kept me going back then is simply knowing that I'm helping out. Doing what's needed and being able to serve is more than enough—which for sure, is true for anyone who's a health professional at heart," says Marife Sevilla, Chief of the UPHS Dietary Section and Head of the UPHS Information Dissemination Team.
From medical technicians to administrative staff, the roles and responsibilities of each UPHS and SiM employee are vital in keeping the community safe and running. They manage to show up to work daily despite the challenges brought by the pandemic, especially the risk of contracting the virus.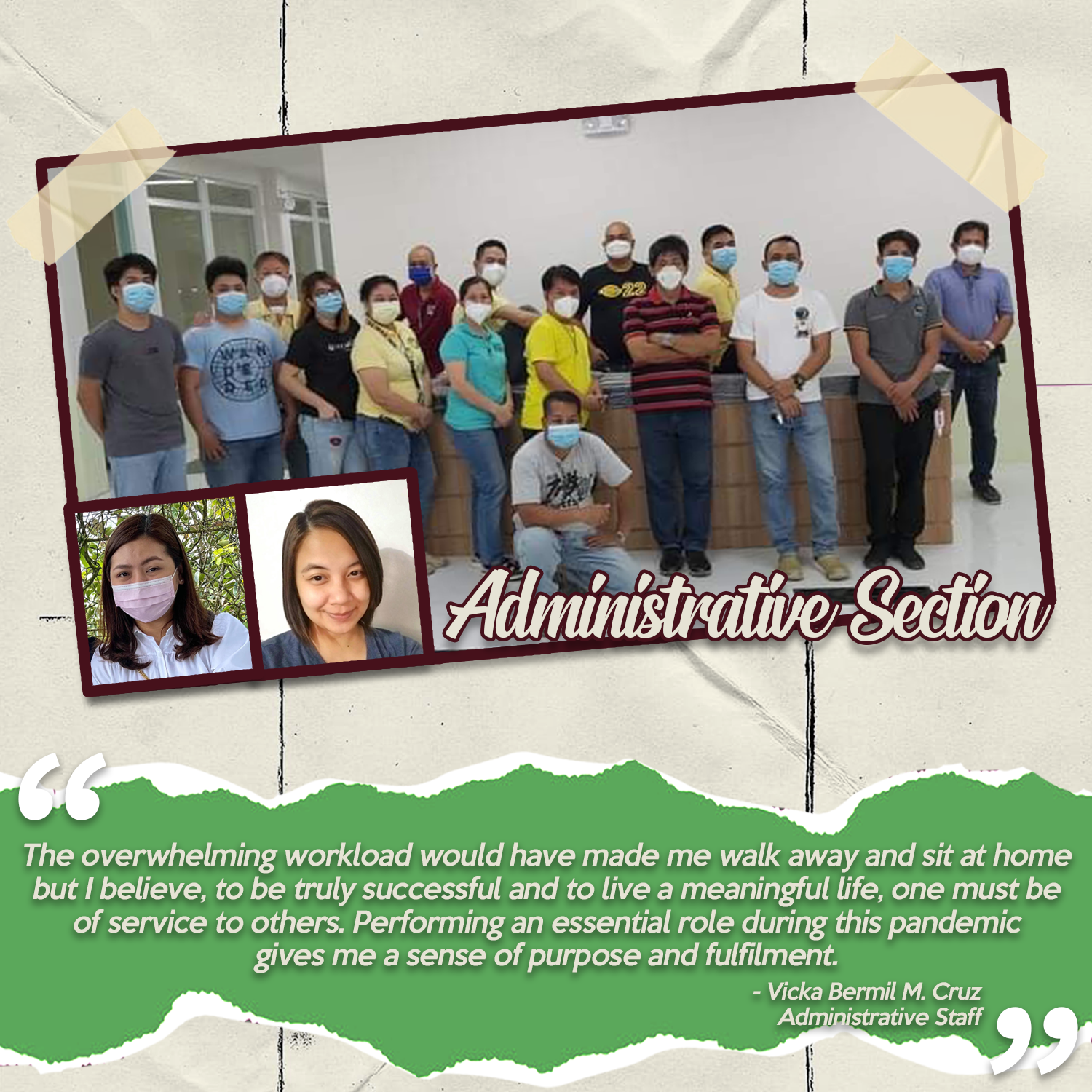 The Administrative Staff may not be directly involved in patient care, but they keep UP HEALTH SERVICE operational during this pandemic. They perform tasks such as processing of documents, procurement of supplies and equipment, building maintenance, billing, cashiering, and hiring of workers. Meanwhile, the Records Section, which is a team under the Administrative Section, is mainly responsible for maintaining the Medical Records, triaging Telemedicine patients, and online processing of Pre- enrolment Health Assessment (PEHA). They have encountered enormous challenges such as tedious hiring process, difficulty in procurement of PPEs and other supplies, lack of technical equipment for the shift to online processing of documents, and many more. Despite all these, they strive to find a workaround for every problem, and continue to march on behind doctors and nurses, because the UP community deserves quality patient care.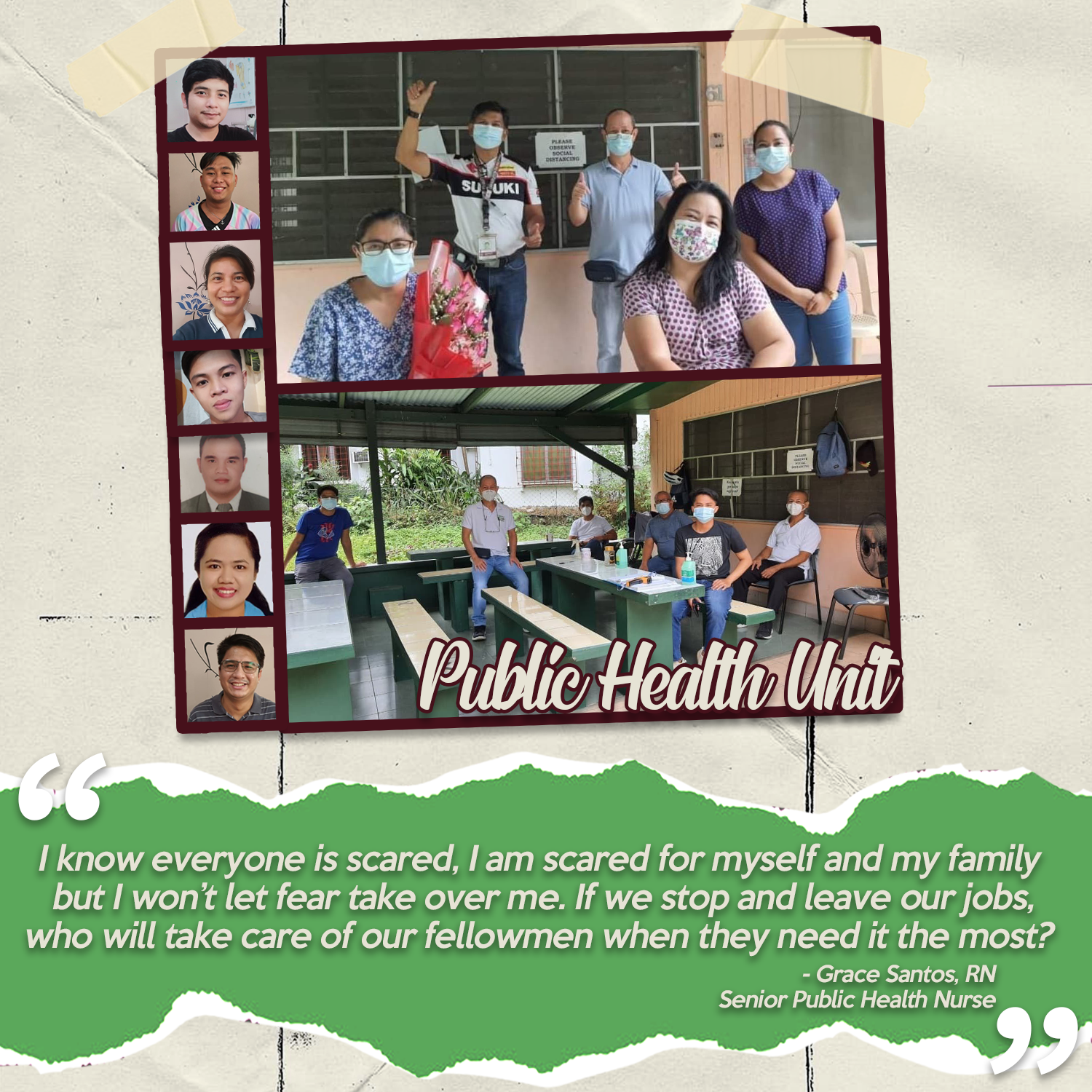 When the pandemic started, the UPHS Public Health Unit had to be empowered because suddenly, there were a lot of things to be done, in terms of increasing the community's awareness about the minimum safety protocols. Despite the lockdowns, the public health still pushed their public health services while doing contact tracing and at the same time keeping their staff healthy and safe. The unit is also working almost 24/7, coordinating admissions to Silungang Molave or other hospitals, mass testing, scheduling swabbing of the targeted population, monitoring, recording, and reporting COVID-19 patients to Quezon City Health Department and the Department of Health.
SILUNGANG MOLAVE COMMUNITY ISOLATION FACILITY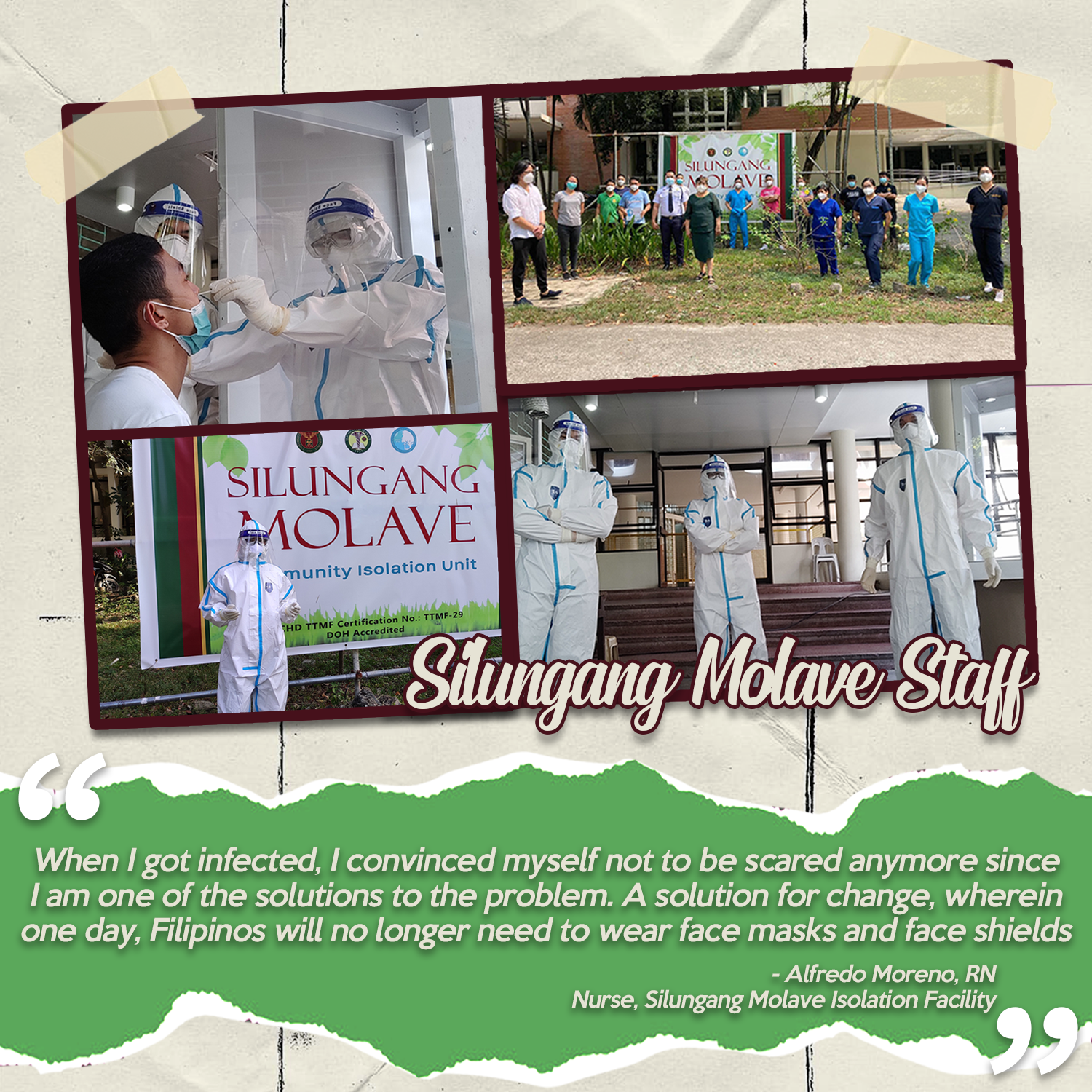 Before admitting anyone to the Silungang Molave (SiM) community isolation facility, the physicians screen whether who can be accommodated and who needs to be referred to another facility. The doctors, nurses, food attendants, housekeepers, swabbers, and every staff of Silungang Molave all manage and attend to patients to ensure that they are well during their stay. They provide a holistic approach depending on the patient's needs.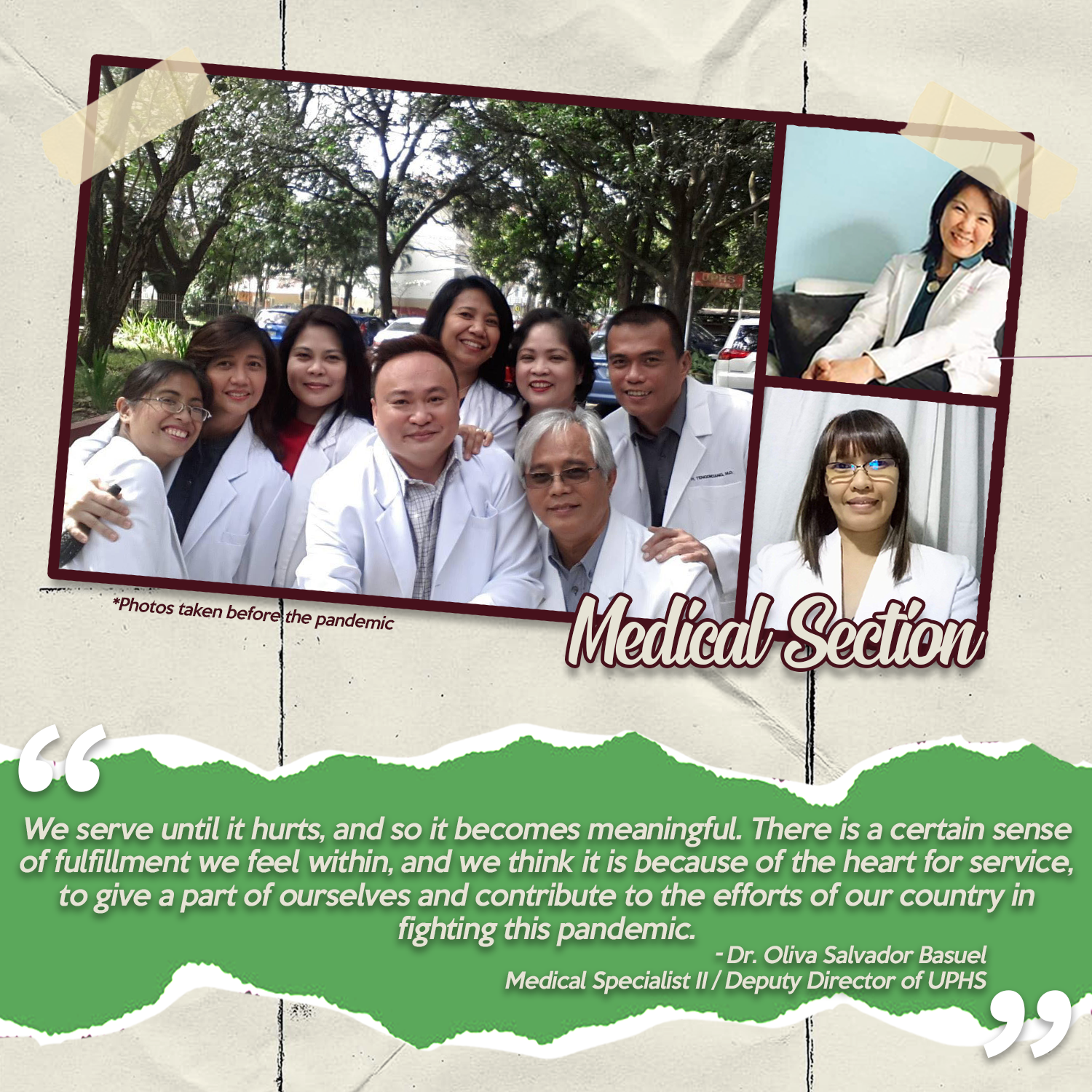 Medical doctors from the UPHS Medical Section are the ones who see all kinds of patients — from children to adults. They treat patients as they come, do consultations, go on 24-hour duties, and manage emergency cases. And since UPHS is a primary care facility, the doctors give the first contact care and refer patients to tertiary hospitals when needed. With the pandemic going on, our medical doctors continue to diagnose and treat non-COVID cases, do an initial assessment for COVID cases and refer them to isolation facilities or hospitals as deemed necessary. They coordinate with the barangays who refer patients to them and assess patients before they are admitted at Silungang Molave.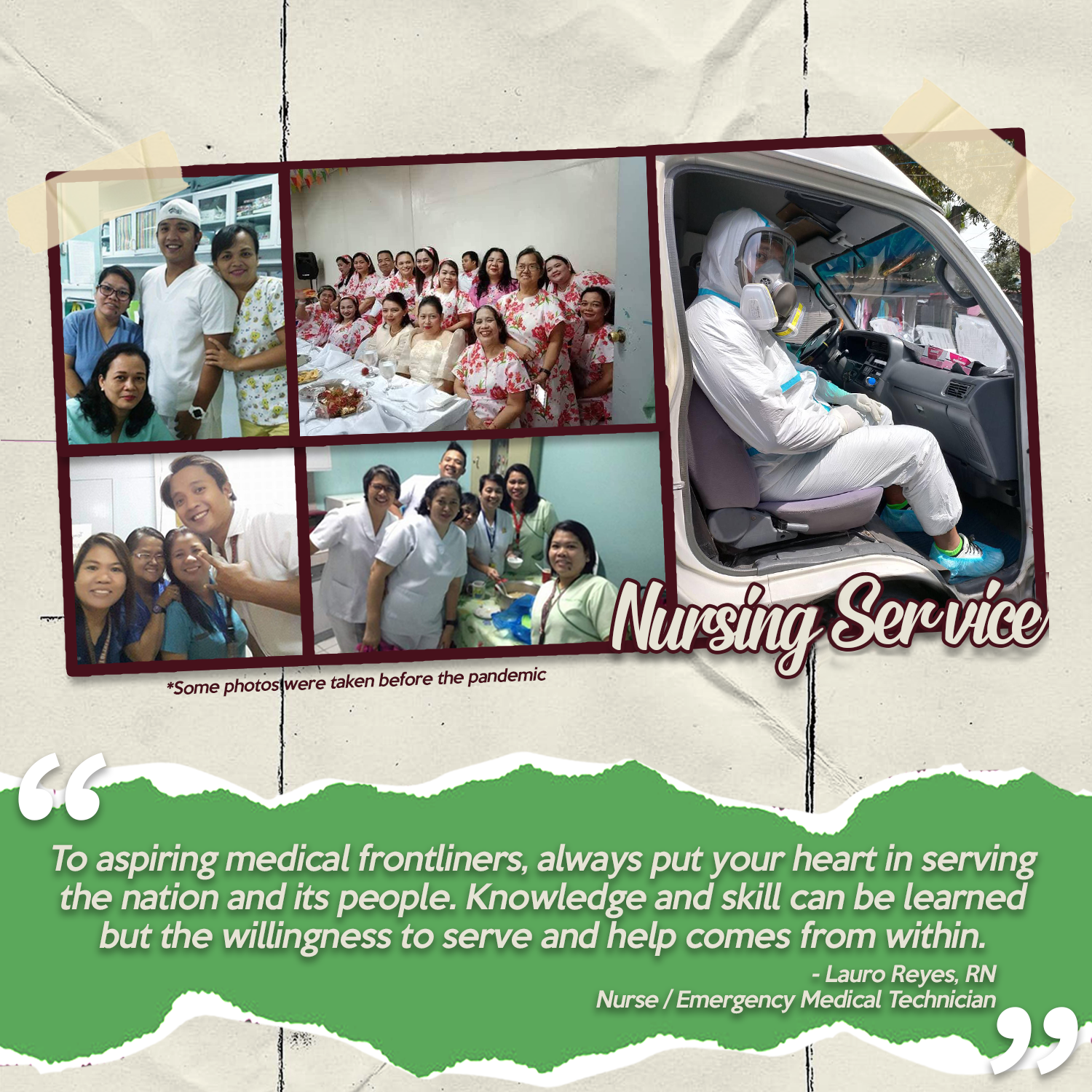 As workers who have to be in close contact with patients, the staff from the nursing service have doubled their safety protocols to lessen the chance of contracting the virus. "As a frontliner, we have to prepare ourselves every minute of our shift, especially because our enemy is an invisible enemy," says housekeeper and emergency response personnel Lester De Leon.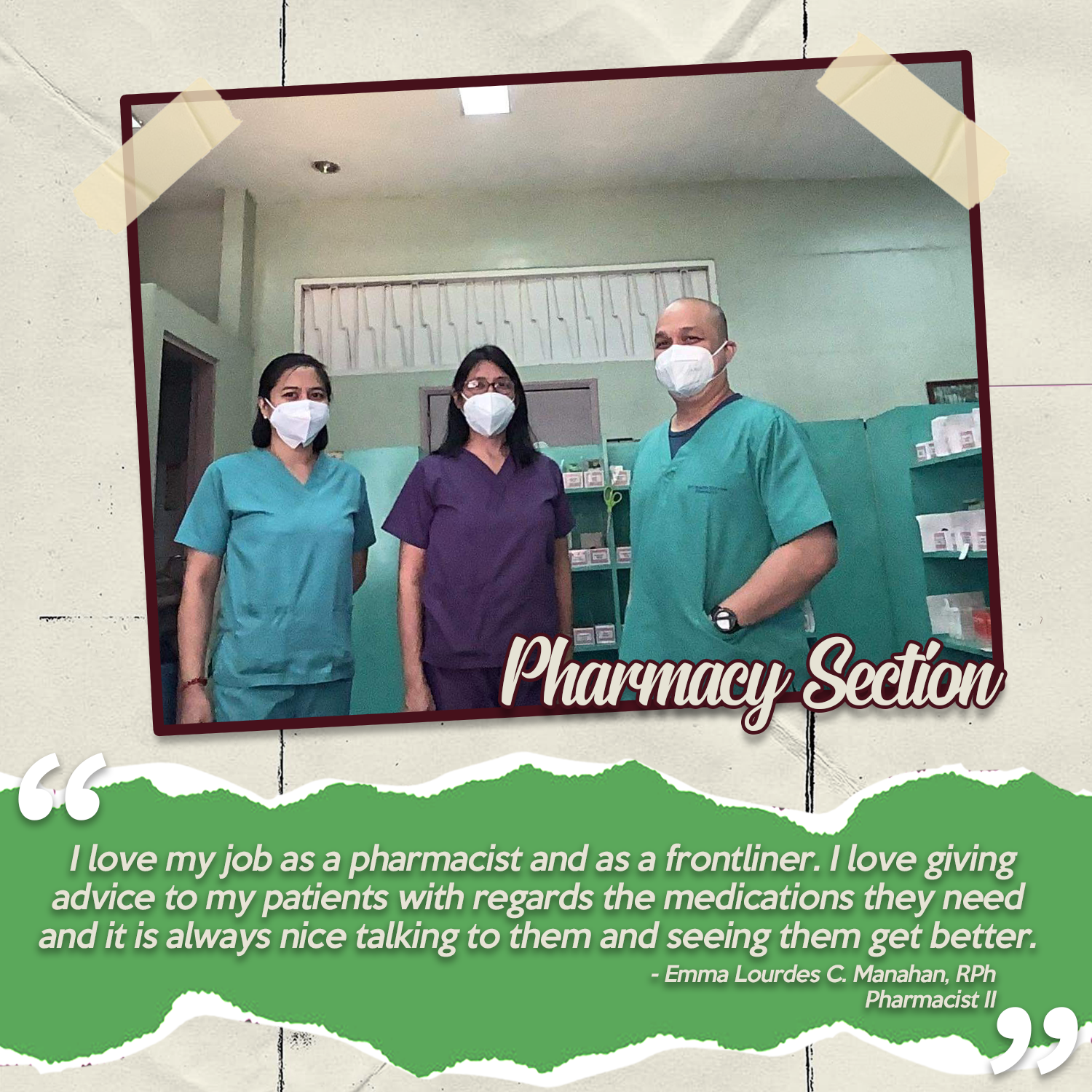 Being pharmacists of the UPHS Pharmacy Section, their main role is dispensing the prescriptions, advising the patient how to take the medicines, and explaining its side effects and contraindications. With the ongoing community quarantine, transportation was a big adjustment to them, especially for pharmacist Emma Manahan. With lesser jeepneys that travel around campus, she is sometimes forced to walk just to get to the office. Together with her colleagues in the pharmacy section, Manahan faces an everyday risk to serve the community with affordable and accessible medicine.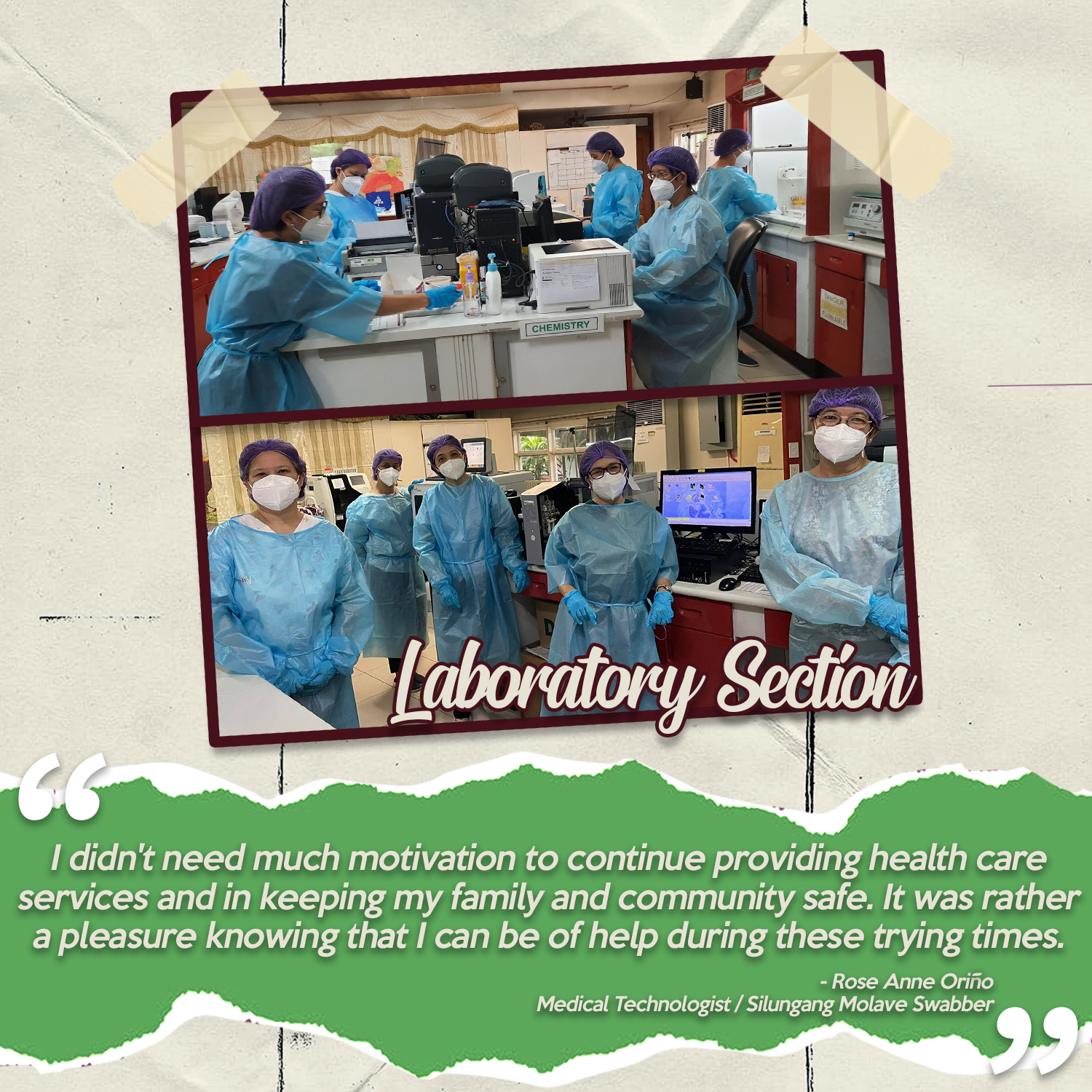 The UPHS Laboratory Section collects specimens and performs laboratory examinations that play a crucial role in the early detection, diagnosis, and treatment of disease in patients; and monitors response and progress to treatment. With this Covid pandemic, they are again tasked to collect nasopharyngeal swabs from probable and suspected patients, specifically Ms Rose Ann Oriño. With this dangerous job, the staff had to make severe adjustments in their line of work like wearing additional Personal Protective Equipment (PPE) to shield them from the dreadful virus. Wearing level 4 PPE is no joke. According to medical technologist Rose Ann Oriño, being healthy both physically and mentally is vital in providing continuous health care for those in need.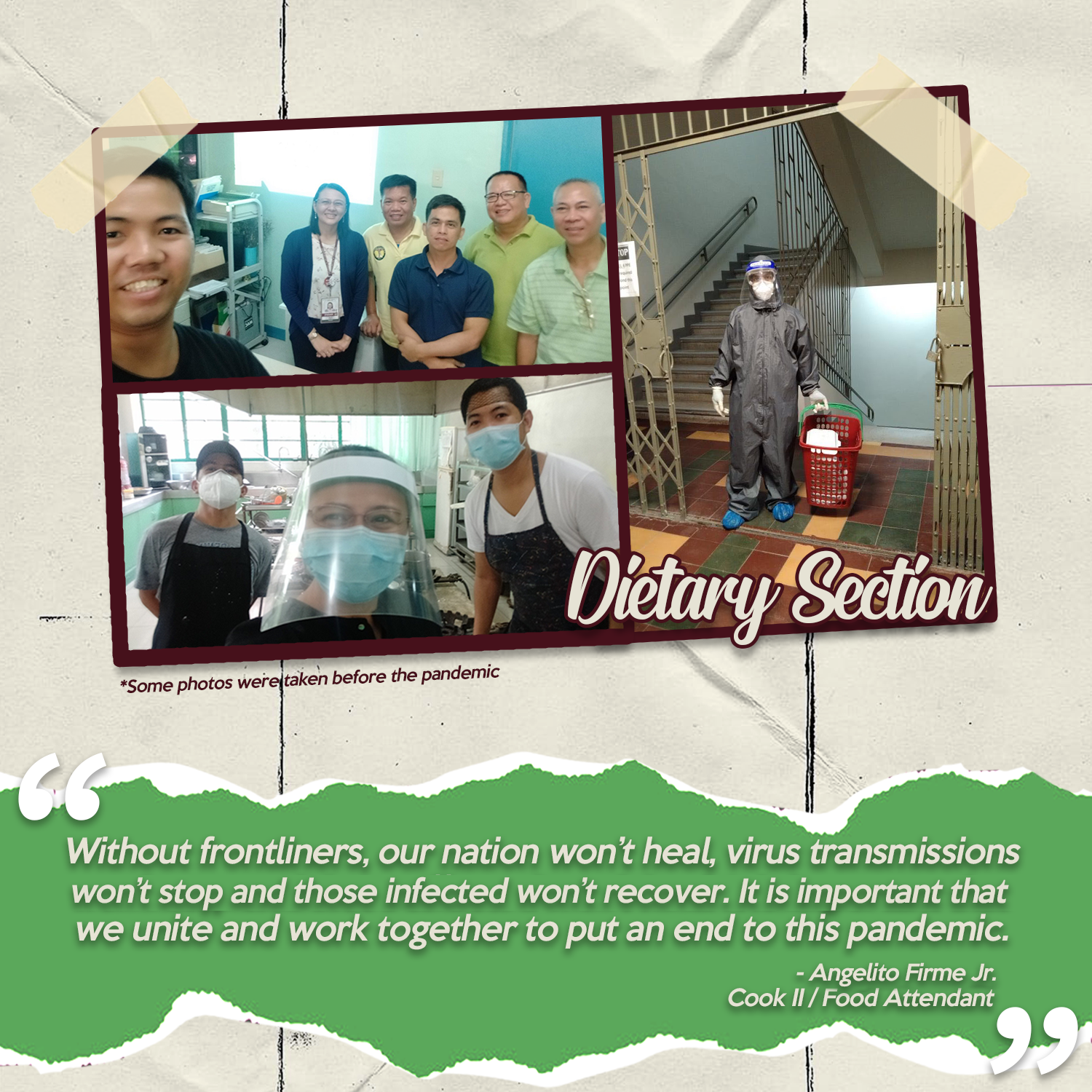 Headed by Ms. Marife Sevilla, the UPHS Dietary Section prepares and serves the meals of UPHS patients, provides nutrition counseling, conducts nutrition research and training, and helps out when nutrition services are needed by the constituents of UP Diliman. During this pandemic, the dietary section adapted the telemedicine set-up to continue serving their patients remotely, which for now include non-UP clients (free of charge) as part of UP Diliman's community service initiative. Some of the dietary staff are temporarily assigned in the Silungang Molave isolation facility. From being a cook in the dietary section, Angelito Firme Jr. currently serves as a food attendant in SiM and serves the meals of up to 30 patients per day.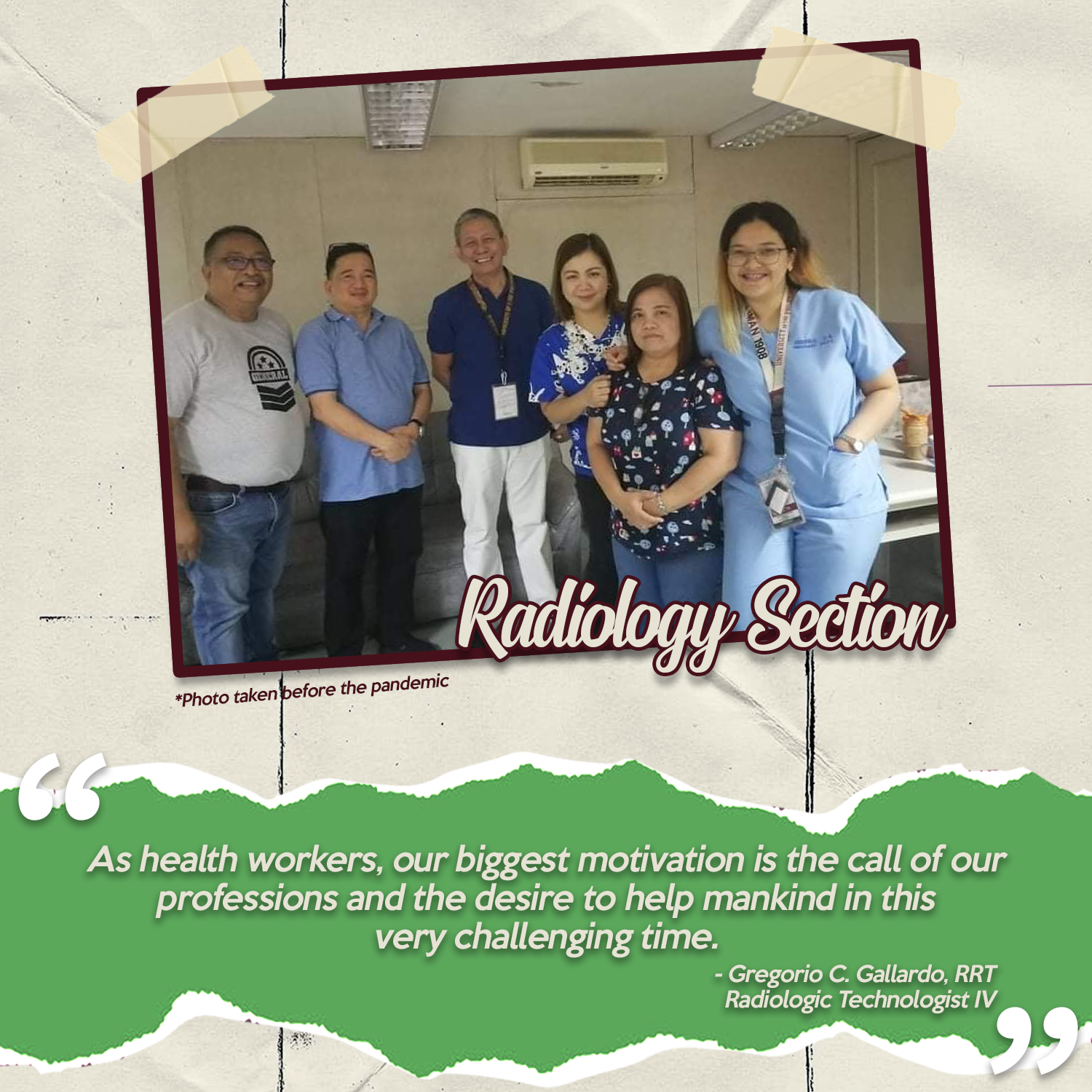 The UPHS Radiology Section is composed of a radiologist, radiologic technologists, and utility workers. Their main service is to provide x-ray and ultrasound services to patients. Due to the pandemic, they only do x-rays because the set-up of the ultrasound room does not comply with the safety protocols of COVID-19. The radiology section does x-rays for non-COVID and COVID patients alike. With risky tasks like this, the staff had to endure being away from their families and being alone in isolation for safety.
With the service they have shown, we must show our appreciation and support to each one of these brave frontliners from different UPHS sections, who continue to risk their lives to help those who are in need.
Kami po sa College of Science ay taos-pusong nagpapasalamat sa ating health at essential workers ng
UP Health Service at Silungang Molave. Saludo po kami sa inyo!