'A Woman's Place is Everywhere'
STS Month honors UPD-CS' TOWNS winners
The Outstanding Women in the Nation's Service (TOWNS) 2022 winners from The University of the Philippines – Diliman College of Science (UPD-CS) took center stage at the university's annual celebration of Science, Technology, and Society (STS) Month in a free online forum entitled, "A Woman's Place is Everywhere."
A link to the full recording of the event can be found at the end of this release.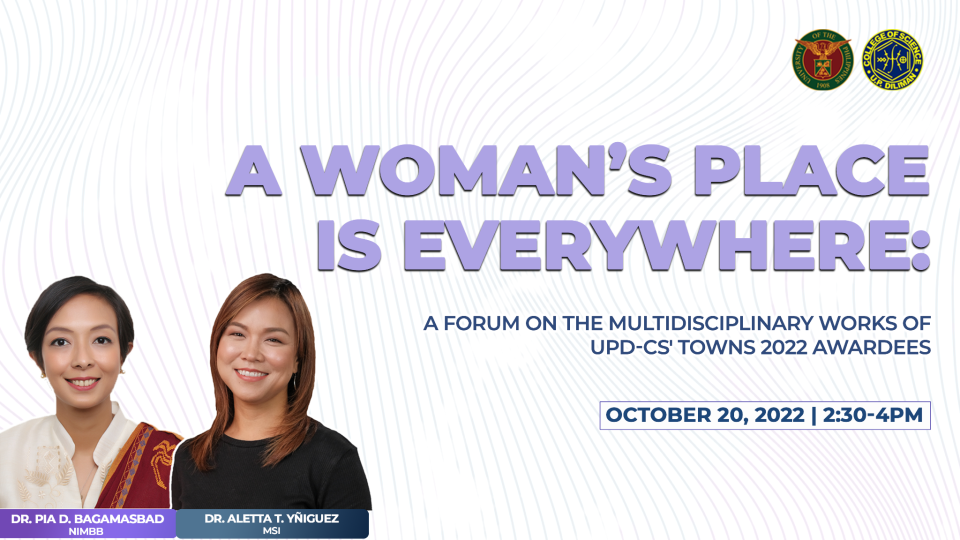 As Director of the National Institute of Molecular Biology and Biotechnology (NIMBB), Dr. Pia D. Bagamasbad has been a key player in the country's pandemic response, while the Marine Science Institute's (MSI's) Dr. Aletta T. Yñiguez has continually been helping to improve the lives of fisherfolk and uplift the country's fisheries sector through her work in marine biology. 
Together, Dr. Bagamasbad and Dr. Yñiguez highlight the wide range of impactful and far-reaching contributions of women in all fields of science.
Dr. Bagamasbad shared her personal experiences as one of the early frontliners in the COVID-19 crisis, where her team rose to the challenge of providing testing facilities and training at a time when much was still unknown about the virus. "It fills my heart to know that we helped make medical testing accessible," she recalled. 
Dr. Yñiguez touched on her immersion in the country's vast coastal ecosystems and the communities that live there, recalling how science is helping both improve our understanding of nature and alerting us to the dangers that threaten it—even while also providing the means for its protection. "We're blessed with so many rich coastal habitats, but they're threatened by local and global challenges," she said.
Since 2018, the University of the Philippines has been celebrating STS Month every October in an effort to raise public appreciation of the interstices of science, technology, and society.

The full recording of the Forum can be found here: https://drive.google.com/drive/folders/11CwSOQnzjmJA8xSTouFUF1a58_7zmNyh